The Buffalo Bill Story
Move through the chapters of William F. "Buffalo Bill" Cody's life. Trace Cody's journey from his childhood through death. In this exhibit visitors can learn how he got his nickname "Buffalo Bill," view images of his early stage career, see how Buffalo Bill's Wild West led to Cody becoming a household name, and discover how he spent the last years of his life. Visitors can also hear early recordings of Buffalo Bill's voice introducing the Wild West show and the "Buffalo Bill Farewell March," played during the 1912 performance season. Object highlights include: the Stetson hat worn by Cody at the last performance before his death, a peace pipe that belonged to Sitting Bull, and Cody's campaign desk.
A Visit to Buffalo Bill's Wild West
Buffalo Bill's Wild West was an intricate operation that traveled around the United States and Europe for thirty years. In this exhibit visitors can learn more about what went into making such a successful and beloved performance. Learn about advertising through posters and programs as well as the famous performers and exciting acts that kept audiences enthralled year after year. At the end of the exhibit you can flip through books to see if Buffalo Bill Visited Your Town. Think about who in your life might have visited Buffalo Bill's Wild West. Object highlights include: saddle worn by Cody's favorite horse, Iron Tail's headdress, and Cody's show costume.
ADVERSARY TO ADVOCATE
Buffalo Bill's relationship with American Indians evolved during his lifetime. An adversary as a scout during the Indian Wars, he later became an advocate for American Indian rights and was well known for treating native performers with equality and respect during his years with Buffalo Bill's Wild West. Walk through the gallery and trace his journey. Along the way, learn more about the Lakota performers in the show and see artifacts that help tell their stories. Object highlights include: a headdress that was gifted by Sitting Bull , Short Bull's coat, and a portrait of Iron Tail.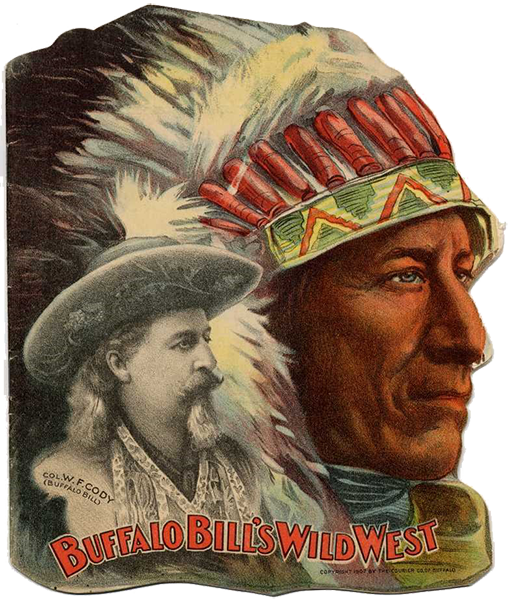 Legacy on Lookout Mountain
Over the years, visitors have been curious about the events surrounding Cody's burial on Lookout Mountain. Learn more about why Cody wanted to be buried on Lookout Mountain, the controversy surrounding his grave, and the founding of the museum. Object highlights include: the bugle played at Cody's burial and plaster cast made of Cody's left hand.
COWBOY CORRAL
Dress as a cowboy or cowgirl, ride a mechanical horse, create bead designs using blocks, and feel the difference between different animal pelts. Don't forget to take a fun photo!